My Story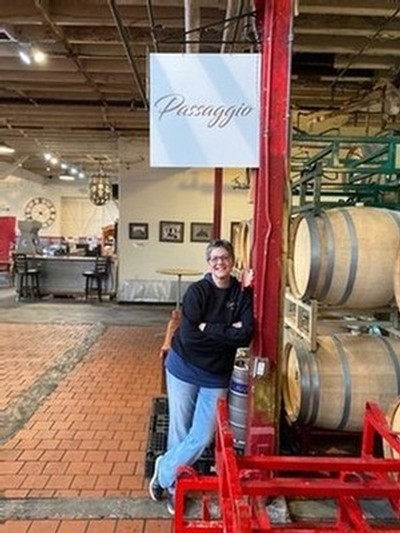 In 2004, I left Law Enforcement career in Northern Virginia and pursued a passion for wine. What did that mean for me? I wasn't quite sure. I moved to California in 2004 and began working part time for Bevmo in Albany, CA. Hal, a part time employee would come in on Saturday's to conduct store wine tastings. He also worked for Chateau St Jean and was able to land me a temp job for harvest 2004. I was hired on full time after harvest. I also took some enology classes at Napa Valley College from 2004-2007.
In 2007, I decided to pursue a winemaking career. I had heard about a custom crush facility in San Francisco called Crushpad. I attended their open house and while talking to the head winemaker as to what I wanted to do, I was soon hired on as their Lab Manager. During my time with Crushpad I launched Passaggio Wines with fifty cases of Unoaked Chardonnay.
Crushpad moved to Napa in 2010, and I was promoted to winemaker and was responsible for their white wine program. In 2011, Crushpad moved to Sonoma. 2011, I left Crushpad to dedicate myself to building the Passaggio brand. In August 2014, I opened the Passaggio Wines tasting room in beautiful downtown Sonoma.
July 2016, I opened my own wine production facility located at 22020 Carneros Vineyard Way Suite 2, Sonoma CA 95476.
As we all know, COVID-19 hit in March of 2020. Shelter-in-place orders, businesses closed, and we had to come up with different ways to sell wine. Zoom became a huge way to virtually talk to our customers and wine delivery right to our customers doorstep became a reality. In July of 2020, I decided I may need to pivot the Passaggio Wines brand and I started on a new path to doing just that.
I was given the opportunity to move Passaggio Wines to Treasure Island, San Francisco, if I could make it happen. In August I was able to get out of my lease at the winery and the same in December for the tasting room. I moved everything to Treasure Island to start this next chapter. Actually, I think I'll call it Season Two, or maybe, Passaggio 2.0

I love bringing people together. There's something magical when you get together with friends and family and share a glass of wine.
This has been an awesome journey to say the least...I can't wait to see what happens next...
Next season begins now!
Cheers to my friends and family!!


Winemaker