February 8, 2018 |
Cindy Cosco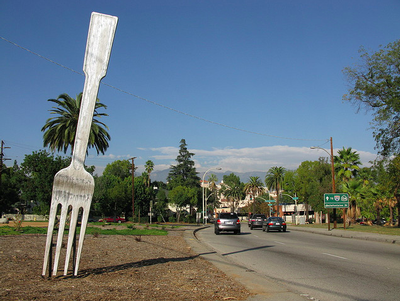 According to Wikipedia "a fork in the road" is a metaphor, based on a literal expression, for a deciding moment in life or history when a major choice of options is required.
I was traveling to a friends house for a Superbowl party a few years back and had to use my Navigator. Before I left the house I typed in the address and found the map directions to be quite far but it didn't look too difficult. As I was driving, one of the instructions was to "take a right at the fork." I started laughing, visualizing an actual fork sticking up out of the road. The Navigator was telling me which way to turn and at that moment I realized it was much like my chosen career...the path I have chosen. The directions were laid out for me and the destination was already known. All I had to do was follow the instructions. The plan was already in place.
We often know exactly where we want to go, or what we want to do with our lives, but have no idea how to get there. Writing it down and making a plan is often our first step. Each twist and turn or stretch of road makes its way into our plan. Then the distance is set with how long it may take us to get to each "fork in the road" and then to our final destination.
There have been several "fork in the road" moments in my life. Was there a plan? Sometimes yes and sometimes no. At those times when I had no plan I found myself camping out a bit before traveling on. (even in the literal sense, trust me, I don't do camping well... :) )
To get to where you want to be - get your directions first...don't try to wing it - you just might get lost. Keep your focus and follow your passion...you will find your way.
Wouldn't it be nice if we could just type our goals into a Life Navigator and get the directions...?
Cheers,
Cindy